Jury for feature films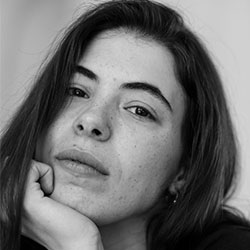 ANUŠA KODELJA
theatre and film actress
Anuša Kodelja graduated in acting and joined the Slovene National Theatre Nova Gorica company in 2020. Meanwhile, she worked on her own projects, collaborating with both the independent scene and international productions. After two years of permanent employment, she decided to continue her career as a freelancer. Her first appearances on film came in graduate projects during her studies, while her first role in a feature was in Marko Šantić's Together. For her role in Bitch, A Derogatory Term for a Woman, she won the Vesna Award for best actress in a supporting role at the 2021 FSF in Portorož. To complement her acting jobs, Kodelja has participated in training programmes, most recently in the Sarajevo Talents programme in 2022 and the ReActing as a star programme in 2023.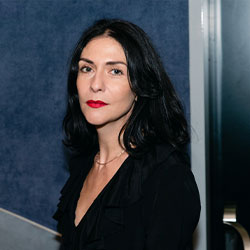 ANDRINA MRAČNIKAR
director and screenwriter
Andrina Mračnikar (1981) studied art history in Vienna, and film directing at AGRFT Ljubljana and Film Academy Vienna, where she graduated with honours in directing in the class of Michael Haneke and screenwriting and dramaturgy in the class of Walter Wippersberg. Her fiction feature debut Ma Folie (2015) was screened at many international festivals, winning a number of awards. After Andri 1924–1944 and With Death as the Only Certain Fate, the documentary Disappearing (2022) completed her trilogy about the history and future of the Slovenian community in Carinthia. The film went on to win numerous awards, including the Vesna Award for special achievements at FSF Portorož. Andrina Mračnikar lives and works in Vienna.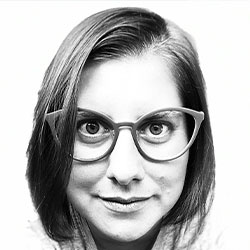 ANA ŠTURM
film critic and writer on film, editor-in-chief of Ekran Magazine
A historian and sociologist with a master's degree in film and television studies and a special interest in the invisible affairs of everyday life. Film spectator, critic and curator. Berlinale and Sarajevo Talent Campus alumna. From 2023, she works as a mentor for the Talents Press programme at the Sarajevo Film Festival. As a member of the International Federation of Film Critics (FIPRESCI), she has participated in several international juries (Berlinale, Rotterdam, Karlovy Vary, Annecy). She currently works as the editor-in-chief of Ekran, a magazine for film and television, and is pursuing a PhD from the Ljubljana Film Academy (AGRFT).
Jury for short fiction, documentary, experimental, animated, and student films: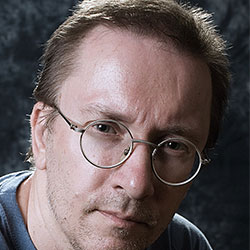 DUŠAN KASTELIC
animation filmmaker
Dušan Kastelic (1964) has displayed an interest in drawing and storytelling from a very young age. As a high school student, he had his comics published in Yugoslav youth magazines; as a college student, he earned his livelihood as an illustrator. After a short stint as a graphic designer, he became a freelance comic artist and illustrator in 1992. At the turn of the millennium, he founded the Bugbrain animation studio, where he makes independent animation films and computer games with a team of collaborators. His films have been screened at over 300 festivals worldwide, winning more than 100 awards and distinctions, including two Vesna Awards for best animated film. In recent years, Kastelic has taught computer animation at the Nova Gorica School of Arts.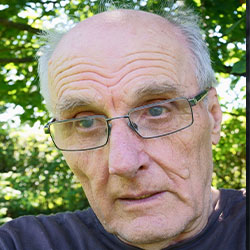 NAŠKO KRIŽNAR
visual anthropologist and cineaste
Naško Križnar (1943) had his first encounter with amateur filmmaking while studying ethnology and archaeology at the Ljubljana Faculty of Arts. In 1963, he joined the OHO Group, and collaborated with the art collective until 1970 as a director and cinematographer, one of the architects of the group's projects and happenings, and author of topographical poetry. Until his retirement in 2012, he had worked at the Research Centre of the Slovenian Academy of Sciences and Arts (ZRC SAZU) as the co-founder and head of the Audiovisual Laboratory. For his work in ethnology and ethnographic film, the Slovene Ethnological Society presented Križnar with the 2003 Murko Award. For his film The Whistle, Križnar won best short film awards at the 2001 FSF in Portorož, and the 2002 International Archaeology Film Festival Cinarchea in Kiel, Germany. In 2023, he received the Slovene Association of Cinematographers' IRIS Lifetime Achievement Award. Križnar is an honorary member of ZRC SAZU. He lives in Kranj.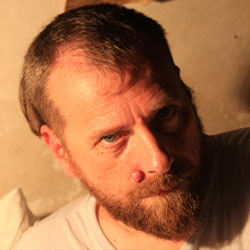 VLADIMIR ŠOJAT
film producer, editor, and video artist
Vladimir Šojat is the founder of artterror (1989), an art association whose films and video works have been shown at MoMA PS1 The Kitchen (New York), Centre Georges Pompidou (Paris), Bauhaus (Dessau), ICA (San Francisco) etc., and at numerous film and video festivals. As part of his production company Frakcija, Šojat has made dozens of documentary and experimental films. He is the initiator of the KINOAKTIV filmmaking workshop of the SAVA Slovenian Society in Belgrade, and a curator of the annual Days of Slovenian Cinema, an event that screens Slovenian short and experimental films, among other formats, in cities and towns across Serbia. Šojat's other professional interests include film theory.
AUDIENCE AWARD
The best feature film as selected by the audience is decided directly by viewers casting their votes. The procedure is described in detail in the Rules of the Festival of Slovenian Film. The award goes to the producer.
Iridium Award for Best Directorial Debut in Feature Film
The IRIDIUM award comprising postproduction services in the amount of EUR 5,000 goes to the director of the best debut feature film.
Association of Slovenian Film Critics Award
Jury for the Association of Slovenian Film Critics Award
Ivana Novak
Ivana Novak is a cultural studies graduate of the Ljubljana Faculty of Social Sciences who started her career as a freelance film critic, publishing her texts on cinema and popular culture in media outlets such as Delo, Ekran, Kinotečnik, and KINO!, while collaborating with the Slovenian Cinematheque as a conference organiser and editor of film theory publications. Since 2014, Novak has worked for the Slovenian National Television as a film curator, and since 2023 also as the host of the Televizorka programme. She is a long-time member of the editorial team of, and a regular contributor to the Ekran Magazine. Novak's other interests include music production, composition, and piano.
Neva Mužič
Neva Mužič worked at the film education department of the Pionirski dom Centre for Youth Culture before transferring to Vesna Film. Throughout her professional career, she engaged in thorough study of the French New Wave and film history at the Cinémathèque Française in Paris. For several years, she was a contributor to the Ekran Magazine and the 'Gremo v kino' radio programme. She regularly attended film festivals in Venice, Locarno, Krakow, and Pula. At the Cankarjev dom Culture Centre, she organised the first international festival on nature and culture, and a showcase of musical and socially engaged films. For years, she was also a member of the Slovenian Cinematheque programme board, the Badjura Award selection committee, the film committee for the selection of Prešeren Awards, and a delegate to the Cultural Community of Slovenia and the Assembly of the Republic of Slovenia.
Melita Zajc
Melita Zajc is a writer on film, researcher and lecturer, a regular contributor to Ekran and KINO! magazines, and Modern Times Review, a leading European magazine on documentary film. She had previously worked as a journalist and editor of print, radio, and digital media outlets. Zajc has a PhD in social anthropology and philosophy of new media. Her research topics include visual art and alternative poetics of cinema, third cinema, decolonisation, Nigerian video films, as well as innovative business models. Since 2019, she has collaborated with the Conseil International du Cinéma et de la Télévision CICT ICFT UNESCO. Zajc is a member of the FIPRESCI film critics association, and a regular contributor to 'Visible evidence', a global community for documentary practice research.
Slovenian Art Cinema Association Award
The award presented by AKMS, an association that brings together arthouse film exhibitors, supports the screening and promotion of the award-winning feature film in 28 cinemas across Slovenia. The jurors for the 2023 award are: Neža Mežan (Mestni kino Domžale), Erik Toth (Art kino Odeon Izola), and Uroš Zavodnik (Kino Slovenj Gradec / Kulturni dom Slovenj Gradec).
Neža Mežan has worked for the Domžale City Cinema since its very beginnings. As a big film enthusiast, she can enjoy an almost daily contact with all things cinema and Slovenian film production. It was thanks to high quality films she could watch in her hometown cinema than she has begun to develop her own critical lens, which she then honed at a film critics' workshop with Matic Majcen. Her job as a translator gives her a more technical insight into cinema through subtitling. Mežan is also part of the team behind film talks at the Domžale City Cinema.
Erik Toth is a long-standing head of programme at Art Cinema Odeon in Izola, and a coordinator and organiser of cultural events for the Izola Centre for Culture, Sport, and Events. For years now, he has worked on promoting culture, especially cinema, among the audience in and around Izola. He has started three film education projects for kindergartens, primary schools, and students. It hardly needs saying, but he loves film.
Uroš Zavodnik is a freelance artist, director, screenwriter, and actor who has made a number of fiction and documentary films. He graduated in film art from AAU, Klagenfurt, and obtained a PhD from AAU and AGRFT, Ljubljana. He is a member of the Vajevec Brothers Actor Studio. Poet, photographer, former musician. Zavodnik teaches film and photography as an assistant professor for Visual Art – Film and Photography at the University of Maribor and the AMEU Dance Academy. He is a long-time collaborator of the Art Cinema Association of Slovenia, more precisely the Slovenj Gradec Cinema, in film education programmes for audiences of all ages.